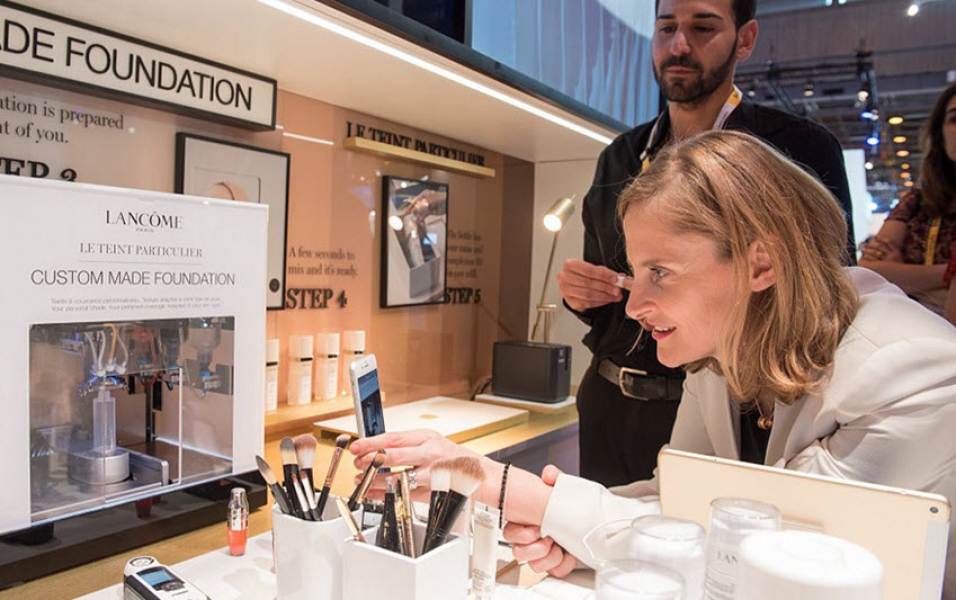 Published on 17/05/2018
L'Oréal presents the New Beauty Experience at Viva Technology Paris 2018
Clichy, 17 May 2018 - For the 3rd edition of Viva Technology Paris, L'Oréal will present its latest beauty tech innovations at Viva Technology Paris, displaying how digital technologies enhance the future of beauty providing an "augmented" consumer experience.
"The New Beauty Experience": Personalized digital products and services
Visitors will be able to immerse themselves into new digital beauty experiences on a journey across three areas of daily life - a bathroom, a hair salon and a boutique. In each area, L'Oréal brands will display a range of personalized products, connected devices, as well as beauty services fueled by Augmented Reality and Artificial Intelligence:
For the first time worldwide, L'Oréal will showcase the latest AR technology from ModiFace, a beauty tech company recently acquired by L'Oréal. The new technology allows customers to have a one-to-one live step by step tutorial and coaching with a make-up advisor, virtually try on personalized make-up looks and shop online.
A smart mirror experience will allow visitors to virtually try on makeup and find makeup looks based on their outfit. This prototype technology has been designed exclusively for Viva Technology by ModiFace and L'Oréal's startup partner MemoMi.
L'Oréal Professionnel will present a virtual hair color try-on technology based on 3D artificial intelligence that enhances the conversation between hairdressers and consumers for a better salon experience.
L'Oréal China will present two online shopping innovations:

A voice guided "butler" developed with L'Oréal Paris's men cosmetics brand Men Expert, which can provide personalized skin care tips as well as shop for men skin care based on a conversation with the consumer.
The second innovation, developed for L'Oréal Paris in cooperation with Chinese retailer Alibaba, will be a connected voice-enabled mirror that can shop directly on TMall for makeup products based on the looks selected by the consumer.

For the first time in Europe, SkinCeuticals will present Custom D.O.S.E, a technology that allows to create custom-made skin care based on a thorough skin diagnostic made by a dermatologist.
La Roche-Posay will present a new shower experience concept in development with the French startup SKINJAY. The encapsulated shower technology will enable consumers with sensitive skin to infuse their shower water with the dermatological skincare of La Roche-Posay.
L'Oréal luxury professional hair care brand Kérastase will present a personal diagnostic for scalp and hair fiber quality, based on combination of a mobile application and a livestream camera. This technology will enable hair professionals to recommend hair care products most suited for their clients.
To showcase how new technologies help enhance agility and efficiency in L'Oréal's conception and production, the stand will also include an area dedicated to digital technologies in Operations (Industry 4.0), featuring a collaborative robot and a 3D printer for packaging prototypes.
L'Oréal Viva Technology Events:
Friday, May 25
9:00 - 9:30 am "Digital Innovation to Create the Future of Beauty", with Jean-Paul Agon, Chairman and Chief Executive Officer of L'Oréal.
11:30am - 12:30 pm "Unveiling how to succeed in data-driven transformations?", panel discussion with Lubomira Rochet, Chief Digital Officer of L'Oréal.
Join us at the L'Oréal stand for:
A complete cycle of presentations and conferences on the future of beauty (please visit www.vivatechnology.com for detailed program information)
Startup presentations: 12 startups coming from China, USA, Germany, UK and France and working closely with L'Oréal subsidiaries and brands will be featuring their beauty tech products as part of L'Oréal's Open Innovation Program.
About L'Oréal
L'Oréal has devoted itself to beauty for over 100 years. With its unique international portfolio of 34 diverse and complementary brands, the Group generated sales amounting to 26.02 billion euros in 2017 and employs 82 600 people worldwide. As the world's leading beauty company, L'Oréal is present across all distribution networks: mass market, department stores, pharmacies and drugstores, hair salons, travel retail, branded retail and e-commerce.
Research and innovation, and a dedicated research team of 3 885 people, are at the core of L'Oréal's strategy, working to meet beauty aspirations all over the world. L'Oréal's sustainability commitment for 2020 "Sharing Beauty With All" sets out ambitious sustainable development objectives across the Group's value chain.
"This news release does not constitute an offer to sell, or a solicitation of an offer to buy L'Oréal shares. If you wish to obtain more comprehensive information about L'Oréal, please refer to the public documents registered in France with the Autorité des Marchés Financiers, also available in English on our Internet site www.loreal-finance.com.
This news release may contain some forward-looking statements. Although the Company considers that these statements are based on reasonable hypotheses at the date of publication of this release, they are by their nature subject to risks and uncertainties which could cause actual results to differ materially from those indicated or projected in these statements."
 
Contacts at L'Oréal
Individual shareholders and market authorities
Mr Jean Régis CAROF
Tel.: +33 1 47 56 83 02
[email protected] 
Financial analysts and Institutional investors 
Mrs Françoise LAUVIN
Tel.: +33 1 47 56 86 82
[email protected] 
 
Journalists
Mrs Polina HUARD
Tel.: +33 1 47 56 87 88
[email protected]
Mrs Vanessa WANG
Tel.: +33 1 47 56 76 88
[email protected] 
Switchboard
Tel.: +33 1 47 56 70 00

For more information, please contact your bank, broker or financial institution (I.S.I.N. code: FR0000120321), and consult your usual newspapers, and the Internet site for shareholders and investors, www.loreal-finance.com, or the L'Oréal Finance app, alternatively, call +33 1 40 14 80 50.