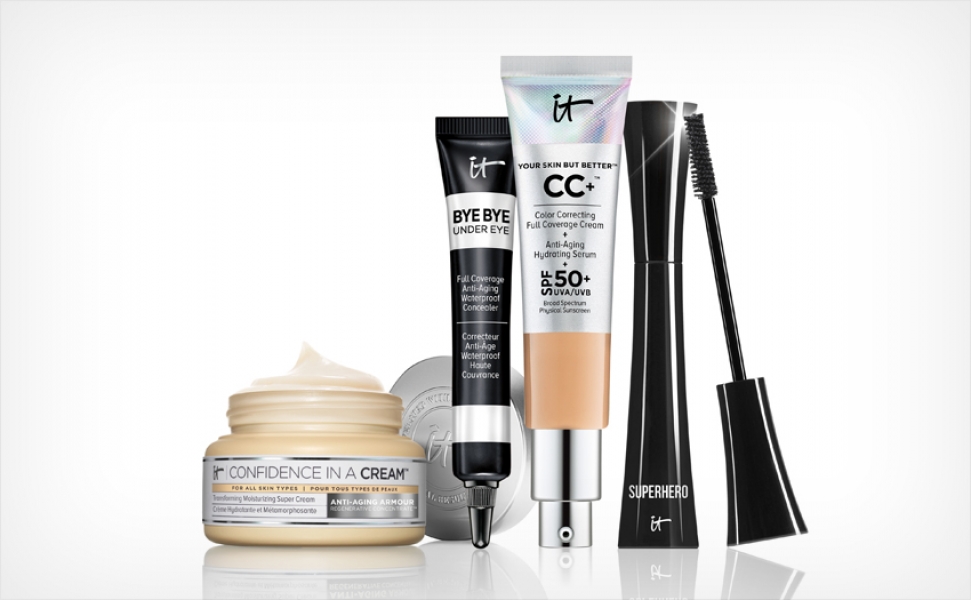 L'Oréal signs agreement to acquire IT Cosmetics
Clichy, New York - 22 July 2016 - L'Oréal announced today the signing of a definitive agreement to acquire IT Cosmetics, one of the fastest growing prestige beauty brands in the United States for a cash purchase price of 1.2 billion US dollars. Founded in 2008 by Jamie Kern Lima and Paulo Lima and co-owned by TSG Consumer Partners, IT Cosmetics was developed with leading plastic surgeons to provide women with innovative, problem-solving skincare and makeup products that empower them to feel confident and beautiful.
IT Cosmetics offers more than 300 high-performance beauty products focusing on color cosmetics, skincare, brushes and tools. IT Cosmetics' multi-channel distribution model includes select television shopping channels including QVC and TSC, specialty stores including ULTA and Sephora, and the brand's website. For the 12 months ending June, 2016, IT Cosmetics had net sales of 182 million US dollars, up by 56%.
"IT Cosmetics shares L'Oréal's passion for product innovation and our belief that offering beauty for all is a deeply purposeful mission," said Frédéric Rozé, President and CEO of L'Oréal USA. "The brand has earned the devotion of its highly engaged consumers and we see potential for significant growth in the years to come."
IT Cosmetics will become part of the Luxe Division of L'Oréal.
"IT Cosmetics will perfectly complement the L'Oréal Luxe's brand portfolio to satisfy the rising demand for make-up as well as hybrid skincare. We are happy to welcome IT Cosmetics to the L'Oréal dream team which includes other great beauty brands such as Lancôme, Kiehl's, Yves Saint Laurent, Armani and Urban Decay," said Nicolas Hieronimus, President L'Oréal Selective Divisions.
The brand will continue to operate out of its Jersey City, New Jersey headquarters under the current leadership team.
"At IT Cosmetics our mission is to make the world more beautiful through our products, through our actions and through our belief that every woman is beautiful and deserves to feel her most beautiful," said Jamie Kern Lima, Co-Founder & CEO, IT Cosmetics. "Our makeup and skincare products are not only game-changing in their innovation, they are also life-changing for real women everywhere. Partnering with L'Oréal and utilizing the power of their global infrastructure will help us scale our mission in an even bigger way and we couldn't be more excited."
The closing is subject to the standard regulatory approvals and other customary conditions.
About L'Oréal

L'Oréal has devoted itself to beauty for over 105 years. With its unique international portfolio of 32 diverse and complementary brands, the Group generated sales amounting to 25.26 billion euros in 2015 and employs 82,900 people worldwide. As the world's leading beauty company, L'Oréal is present across all distribution networks: mass market, department stores, pharmacies and drugstores, hair salons, travel retail, branded retail and e-commerce. Research and innovation, and a dedicated research team of 3,870 people, are at the core of L'Oréal's strategy, working to meet beauty aspirations all over the world. L'Oréal's new sustainability commitment for 2020 "Sharing Beauty With All" sets out ambitious sustainable development objectives across the Group's value chain. 
www.loreal.com
"This news release does not constitute an offer to sell, or a solicitation of an offer to buy L'Oréal shares. If you wish to obtain more comprehensive information about L'Oréal, please refer to the public documents registered in France with the Autorité des Marchés Financiers, also available in English on our Internet site www.loreal-finance.com.
This news release may contain some forward-looking statements. Although the Company considers that these statements are based on reasonable hypotheses at the date of publication of this release, they are by their nature subject to risks and uncertainties which could cause actual results to differ materially from those indicated or projected in these statements."
Media Contacts
Mrs Stephanie CARSON-PARKER
Tel.: +33 (0)1 47 56 76 71
[email protected]
Mrs Clémence FUGAIN
Tel.: + 33 (0)1 49 64 61 60
[email protected]
Mr Matthew DIGIROLAMO (U.S. media)
Tel.: (212) 984-4133
[email protected]
For more information, please contact your bank, broker or financial institution (I.S.I.N. code: FR0000120321), and consult your usual newspapers, and the Internet site for shareholders and investors, www.loreal-finance.com, the L'Oréal Finance app or call +33 1 40 14 80 50.