"Beauty has never looked this good"
Prospects by Jean-Paul Agon
As people's desires for beauty grow in multiple ways worldwide, beauty has never looked this good. Market growth accelerated in 2017, stimulated by extremely favourable demographic and sociological developments. In this dynamic market, L'Oréal achieved a great new year in terms of sales and results.
We strengthened our positions in categories, distribution channels and regions of the world, which are strategic for the future. First, in the two most important categories of the market, makeup and skincare. Secondly, in two key sectors: selective, where L'Oréal Luxe has experienced its strongest growth since 2000, and dermocosmetics, where our Active Cosmetics Division has passed the two billion euro mark. In the New Markets also where, for the first time, we surpassed ten billion euros in sales, particularly thanks to the dynamism of the Asia Pacific Zone. Lastly, two growth boosters are running full steam ahead: on the one hand, 2017 was another great year of digital acceleration. Our e-commerce sales grew by +34% x and online sales now exceed two billion euros, representing nearly 25% of sales in a digitally advanced country like China. On the other hand, Travel Retail, a high potential channel where L'Oréal celebrated its 40 years by strengthening its leadership position.
L'Oréal also delivered good results, achieving a record operating margin of 18%. The year was marked by a sharp increase in net income, up +15.3%, as well as by a dividend increase that will be proposed at the Annual General Meeting x. The Group has once again shown the strength of its powerful, balanced and value-creating business model.
But our mission goes beyond economic success. This year, through our sustainability programme, "Sharing Beauty With All", we have once again demonstrated that economic performance and environmental and social performance go hand in hand and are even mutually reinforcing. For example, in 2017, the reduction in our CO2 emissions reached -73% since 2005, whilst at the same time, our production increased by +33%.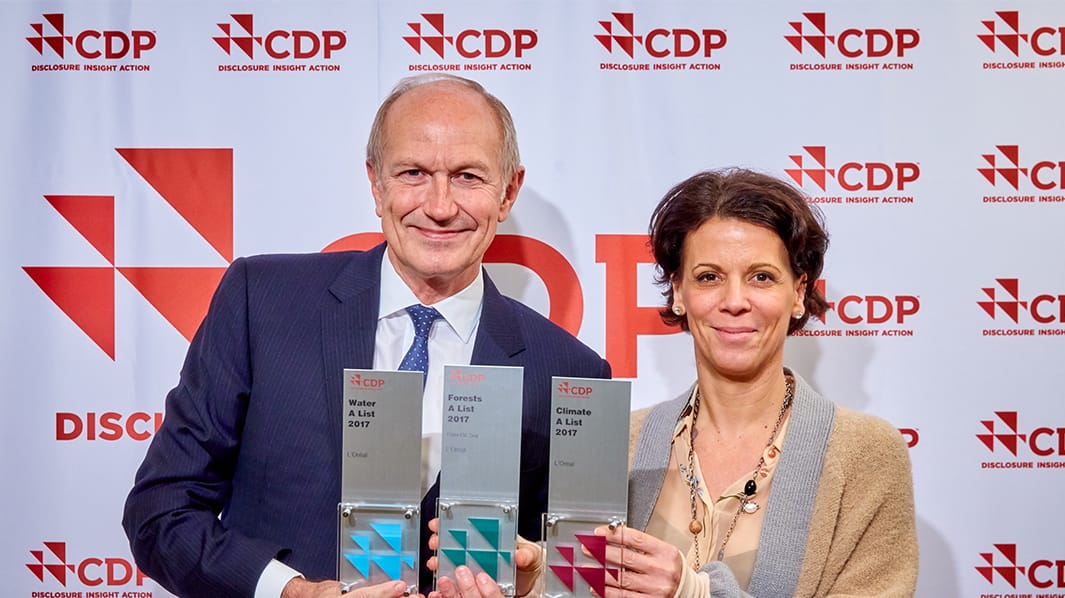 Our performances have been widely recognised. L'Oréal was the top performing global company on Newsweek's 2017 Global 500 Green Rankings and CDP x, the most respected authority in sustainability, awarded us, for the second year running, three "A" ratings for our actions in fighting climate change, water management and combatting deforestation. Another great source of pride – because it is a long struggle – is the fact that L'Oréal has come first in the worldwide rankings on gender equality among over 3,000 companies rated by Equileap.
Being a leader both economically and socially is our goal. Our ambition allows us to have a positive impact on the environment and society, as well as sustaining our success in the long-term.
Overall, 2017 was a year of significant progress for L'Oréal, a pivotal year at a pivotal time. We are entering 2018 and the coming years with great confidence in our unique and original business model, ideally suited to this new world of beauty, full of new promises and opportunities.
Let me share with you what I call our seven reasons for success.
Firstly, a beauty market that will continue to grow in the coming years. This is in part thanks to the emergence of the new middle and upper classes who are powerful consumers of beauty, especially of premium products. But also the result of major shifts which reveal new needs, such as urbanisation or ageing populations.
Secondly, L'Oréal is the archetype of the "Beauty Pure Player" – nothing but beauty, for all types of beauty – and our unique expertise acquired over 109 years, allows us to understand, in extreme detail, the desires and aspirations of consumers all around the world.
Thirdly, our fundamentals, the reasons for our success today which will be the reasons for our success tomorrow: the obsession of innovation and superior quality, more important than ever in a world of ratings and reviews: our continuous strategic focus on Research & Innovation is absolutely necessary; the power of our brands, more essential than ever in a world of consumer hyper-choice: the richness of our complementary brands, eight of which are already billionaires, makes and will continue to make the difference; the star products, strong and powerful, in a world of algorithms.
The fourth reason is our superior digital prowess in a world where technological developments is crucial.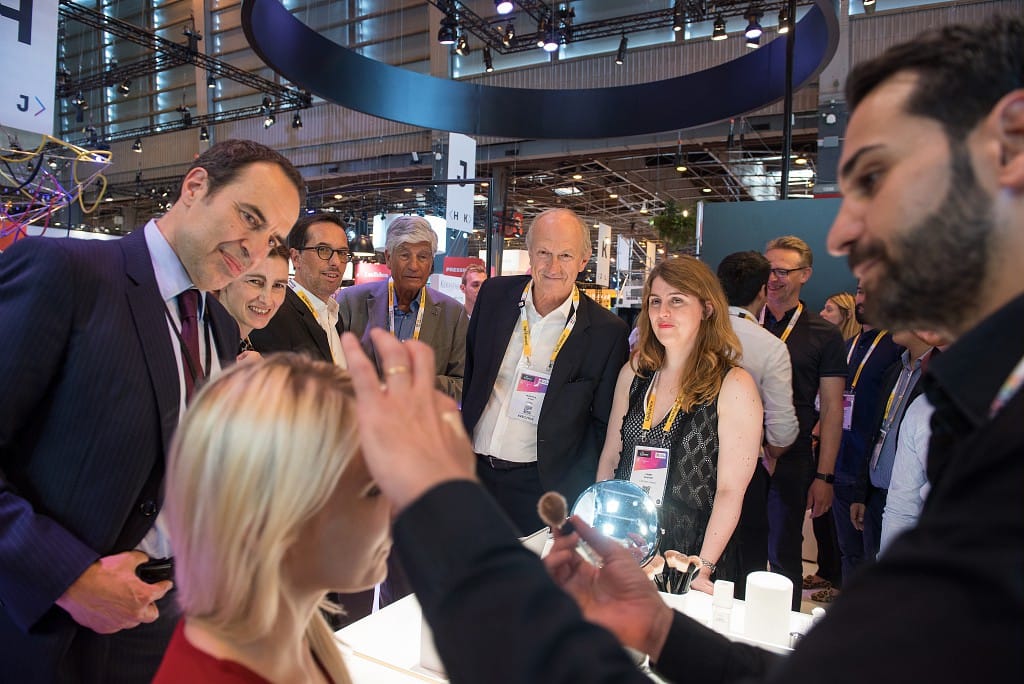 2017 VivaTech exhibition
Fifth, our unique multipolar footprint in all categories, distribution channels and regions of the world helps us to spot new consumer trends more quickly and to adapt in real time to market developments.
Sixth: the recognised excellence of our environmental and social commitments.
Finally: in a world where agility has become decisive, our decentralised organisation, our entrepreneurial culture and the high quality of our teams in the countries and on the ground.
For all these reasons, we are more than ever optimistic, confident and determined. Ready to seize every opportunity in a beauty market full of promise.