Prospects by Jean-Paul Agon
"Our greatest source of pride: delivering financial performance while being a committed corporate citizen"
Jean-Paul Agon
Chairman and Chief Executive Officer
Jean-Paul Agon, Chairman and Chief Executive Officer of L'Oréal, interviewed by Stéphane Soumier, Chief Editor of BFM Business, on the major themes of 2018 and the Group's prospects for the future.
The cosmetics market continued to grow steadily and in fact accelerated in 2018. Do you think this is a structural trend?
Clearly, the market has been particularly buoyant, making 2018 the best year in 20 years . There are strong underlying trends driving this acceleration over the past few years.
The first, and probably most important factor is the insatiable desire for beauty across all countries and cultures.
Second, premiumisation: consumers are ready to pay more and trade up for products with new benefits, better performance and superior quality.
Third, digitalisation, as beauty and digital are a perfect match. It has never been easier to discover beauty, share it and buy products online, even in the most remote corners of the world. Digital is and will remain a terrific booster for beauty.
Finally, our market is also fuelled by increased penetration of beauty all over the world. First, because of e-commerce, which is extending our reach far beyond the limits of traditional distribution, especially in emerging economies. Also because of many white spaces in terms of categories and countries.
And finally because there are always new consumer targets!
Once again, L'Oréal outperformed the market. What were the drivers of this growth?
Our growth accelerated to produce our best year in more than 10 years. And we achieved a new record operating margin of 18.3%.
We significantly outperformed the market, generating strong positions in the most promising and strategic areas for the future.
We strongly reinforced our position in Asia Pacific, where we enjoyed our highest growth. Asia Pacific overtook North America to become our second largest Zone this year. By sector, we outpaced the market in both luxury, the most dynamic of the market, and dermocosmetics, ideally placed to meet rapidly growing health and well-being expectations all over the world. We strengthened our leadership in two thriving channels: e-commerce and Travel Retail. Finally, we outperformed in skincare, the category where the combination of trusted brands, power franchises and the innovation offered by our Research & Innovation, is a winning equation.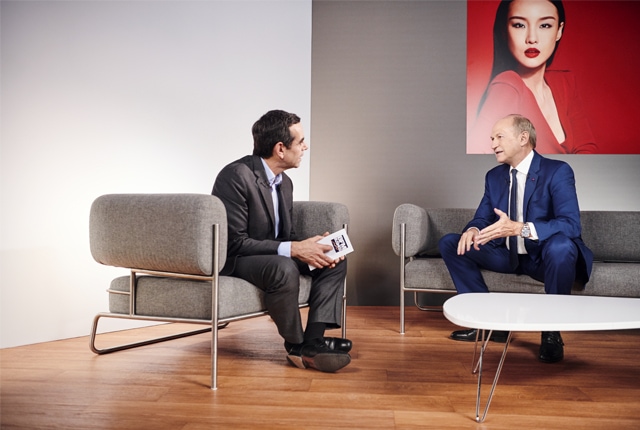 You have said previously that digital is not the cherry on the cake, but the cake itself! Just how important is it for your business?
In fact, digital is doing much more than generating additional business. It is radically transforming our company.
Digital is boosting our brand power. In this world of algorithms, bigger is truly better. In 2018, our biggest brands have become even stronger.
Digital is also strengthening our power to connect with consumers. The acquisition of ModiFace, for example, has been instrumental in enriching the services we offer. Digital is now totally embedded in our teams: in every brand, in every Division, every function and every country, infusing the entire company with digital excellence. Digital has been, and will continue to be, a powerful accelerator for growth.
Beyond digital, new technologies are opening up new horizons for beauty. And we are absolutely determined to be the pioneers, the champions and the leaders of this new Beauty Tech world.
You often say that your objective is to make L'Oréal not only an economic leader, but also a responsible and exemplary leader. What progress did you make?
Delivering financial performance while being a committed corporate citizen is probably our greatest source of pride. This is what motivates us to always go the extra mile. Once again, in 2018, we made major advances that have been recognised by renowned external institutions. L'Oréal is the only company in the world to obtain three "A" ratings from the CDP for the third year running. It recognises our actions in fighting climate change, ensuring water security and combatting deforestation. In terms of diversity, we were ranked as the top gender-balanced company in Europe by Equileap. And in terms of ethics, we are very proud that for the first time, in November 2018, we were ranked as the leading company worldwide, across all industries, by Covalence EthicalQuote.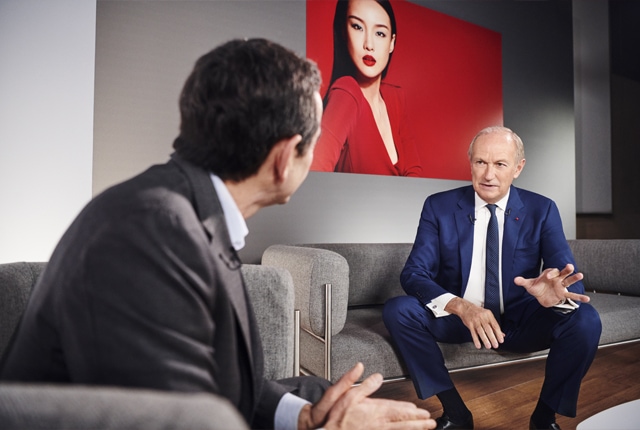 Your 2018 results represent a historic achievement and you have been the leader of your market for years. What are the levers that will enable you to grow in the years to come?
Probably the same ones that have kept us growing for the last 110 years!
First, our absolute faith in the superior quality of our products, with our strategic focus on Research & Development. Because innovation is the name of the game in our business.
Second, our belief that top-line growth is clearly the best route to create value for our shareholders. Our business model focuses on top-line growth and operational discipline. This model is robust, and our results have demonstrated this once again.
Third, our conviction that victories are won on the ground. Thanks to our unique culture, organisation and, of course, the incredible qualities of our 86,000 people who understand our consumers' desires and are fully empowered to deploy resources accordingly, acting like real entrepreneurs. Our strategically concentrated but operationally decentralised model, combined with the empowerment of teams in the countries, is what brings agility and excellence on the field.
Fourth, our ability to catch and seize growth wherever it emerges thanks to our total coverage of the market in terms of channels, categories, countries, prices and consumers. We maximise all opportunities wherever they are while minimising exposure in areas which are slowing down.
And finally, our lead in sustainability and ethics. Our deep conviction is that economic and environmental, social and societal performance go hand in hand and mutually reinforce each other.
These five founding principles make L'Oréal a different kind of company, unique in this industry, perfectly adapted and in tune with the evolution of the world.