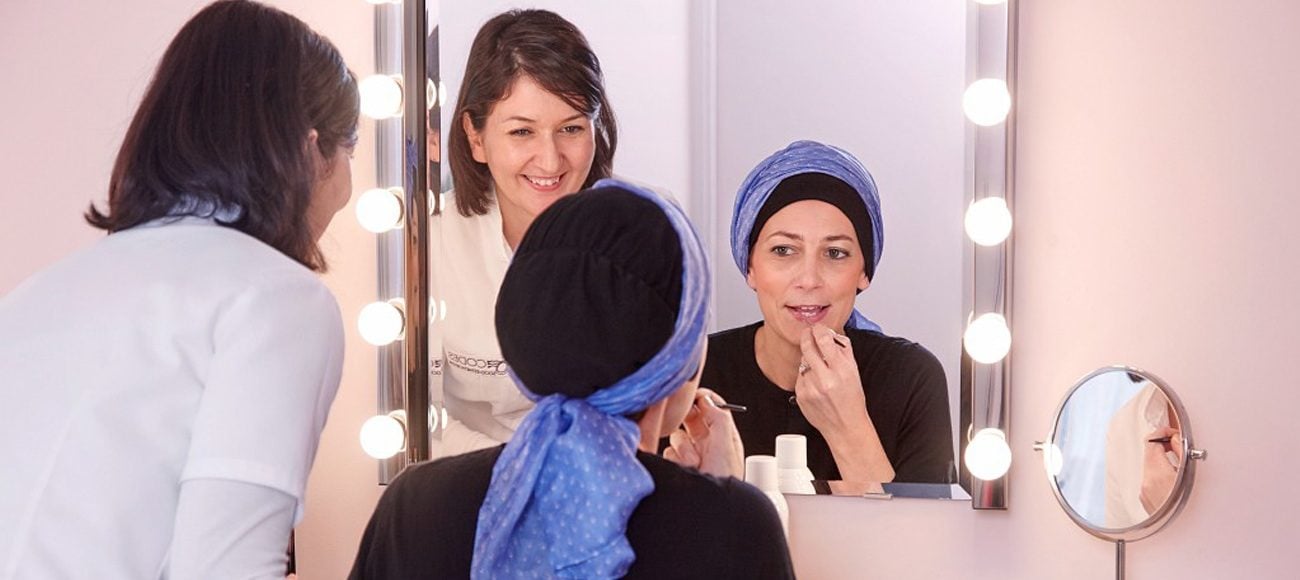 Beauty for a Better Life: solid partnerships and clear benefits
A unique study , conducted by the L'Oréal Corporate Foundation on 1,166 people with cancer, highlighted the benefits of beauty and wellness treatments on their quality of life. Over 90% of those who benefited from treatments felt these played an important role in helping them to think about something other than their illness, improved their mental and physical health, and boosted their self-esteem.
Also known as onco-aesthetic care, these treatments can take place in hospitals or in dedicated city centres, where they are provided by specially trained socio-aesthetic therapists. The treatments can be one-on-one or take place in groups. They combine beauty treatments (facials, manicures, pedicures, massage, makeup, etc.), technical advice, a listening ear and a relaxing break. Beauty and wellness treatments are like a breath of fresh air for patients whose bodies have been ravaged by illness, treatment or surgery. They help patients come to terms with disruptions to their self-image.
Through partnerships developed in hospitals, with associations, and with scientific institutions, the L'Oréal Corporate Foundation strives to make beauty and wellness treatments available to a broader audience, since only 12% of cancer patients currently benefit from them . The Foundation also works to professionalise socio-aesthetic therapy as applied to oncology patients.
The L'Oréal Corporate Foundation has partnered with key players such as CODES to train socio-aesthetic therapists; the Unicancer network to expand access to onco-aesthetic care at the hospital; and the Maison Rose – a centre set up in the heart of Bordeaux to welcome patients and their helpers. The idea is to help women cancer patients embrace their femininity during their illness, both during and after treatment. Given the success of the site in Bordeaux, which has already welcomed 6,000 people, L'Oréal is supporting the launch of a second Maison Rose in Paris, serving as its founding sponsor.
Socio-aesthetic therapist specialised in oncology
"The thing that drives me and that I love about my work with patients is the relationship of trust that we build over a series of sessions. This relationship is what allows us to be authentic, genuine and sincere."
The L'Oréal Corporate Foundation also supports programmes that bring beauty and wellness treatments to people with other diseases as well as to marginalised citizens. In 2018, patients received a total of 32,000 free beauty and wellness treatments. The Foundation supported over 17,000 people in difficult situations.
"When you're sick, beauty isn't vain – it's vital."
For Women in Science
Launched in 1998 in partnership with UNESCO, the "For Women in Science" programme celebrated 20 years fighting for better representation of women in the scientific fields, where the glass ceiling remains a reality. This international programme was born from a single conviction: the world needs science, and science needs women. To reduce gender inequality in the scientific world and promote innovative research that benefits everyone, the programme awards over 280 research grants to doctoral and post-doctoral researchers each year. The programme also recognises five eminent women scientists – from different continents – for their scientific excellence. In 20 years, over 3,100 have received support and been put in the spotlight thanks to the L'Oréal-UNESCO "For Women in Science" programme.
The Foundation also invites men to join the fight via the ambitious "Male Champions for Women in Science" initiative. Male scientific leaders commit, by signing a charter, to help women in science break through the glass ceiling and to strive to promote more equitable gender balance at all levels of the hierarchy within their institutions.