Luxury: a unique relationship with consumers
Direct-to-consumer sales via the brands' own stores and e-commerce websites are a major growth driver for luxury beauty brands. They provide the perfect opportunity to cultivate a unique relationship with consumers, who are keen to enjoy personalised experiences and exclusive products.
Given the many challenges facing traditional department stores today, particularly in mature markets, and the growth of e-commerce platforms; direct-to-consumer sales are becoming an increasingly important strategic asset. This distribution channel includes the brands' own stores and online sales platforms.
Stores are the new media
There are several different types of Group-owned stores: pop-up stores and events, small shops, and flagship stores that embody a brand's image. These venues provide an ideal space for brands to engage with consumers. Stores not only offer brands freedom to express their visual identity from floor to ceiling, they also provide consumers with exceptional experiences to help them learn more about the brand, better understand it, fall in love with it, and share it on social networks. Stores have become a new kind of media. They also help brands know their consumers better; precious data collected in store for CRM enables brands to better address aspirations and improve products and consumer experience.
This is why the Division is opening flagship stores – iconic spaces for brand expression – in select major capitals. As for pop-up stores, they are designed to be full-blown events. They boost brand notoriety, particularly on social networks, where consumers can take centre stage.
Online stores
Brands' own e-commerce sites, which welcome millions of visitors each year, are their number one showcase. They are the first place consumers visit, so content needs to be rich and relevant, with reviews, advice, tutorials, digital experiences and exclusive products that encourage consumers to make a purchase, whether directly on the website or in another point of sale.
New models are also emerging, such as the partnership with giant Chinese platform Tmall, developed to satisfy the demands of Chinese consumers. Through this partnership, our brands can develop online stores on the Tmall platform. It is a winning model, which many L'Oréal Luxe brands, including Lancôme, Yves Saint Laurent, Giorgio Armani, Kiehl's and Biotherm, have already adopted.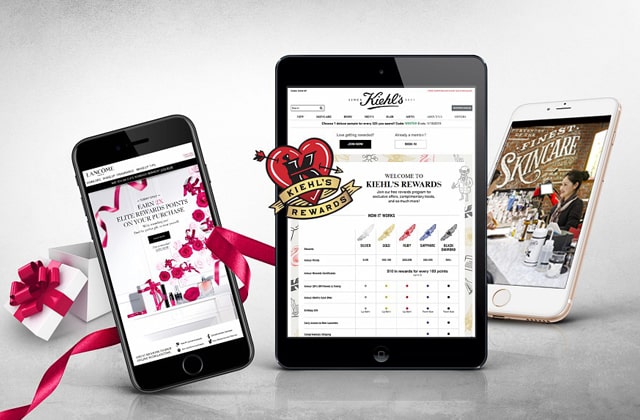 Direct-to-consumer : a major source of inspiration for retailers
For the brands, direct-to-consumer sales are an opportunity to provide each consumer with a unique experience, both in-store and online, by incorporating personalised products and exclusive services. In addition to these pilot initiatives, beauty advisors trained by L'Oréal Luxe provide each consumer with individual attention and advice to best fulfil their expectations. The direct-to-consumer channel is a real crucible for various consumer relation initiatives. The exclusive experiences, bespoke offers and personalised services tested in this channel are intended to be eventually rolled out to all distribution channels i.e. with our partners, department stores and selective distribution chains.
Examples of this approach include offers like Lancôme's Le Teint Particulier, which invites consumers to create a customised foundation, and Apothecary Preparations by Kiehl's, which provides personalised skincare products that evoke the principles and old-school charm of pharmaceutical dispensaries. Skin diagnostic tools and consultations provided by Lancôme and Biotherm have been rolled out in stores, as well as at select counters in department stores such as Galeries Lafayette and Nordstrom. Another service being tested in direct-to-consumer sales is engraving on lipstick and perfume products to personalise them for the customer or as a gift. This exceptional personalisation is available on brand websites, in select stores, pop-up stores, in Travel Retail and also via many of our distributor partners. This allows a seamless continuity of the brand experience.
Last but not least, the digital services available on our brands' websites are technologies also used in indirect distribution. For example, ModiFace technology, which allows consumers to virtually try out cosmetics products thanks to augmented reality, is now available on websites by brands such as Lancôme, as well as in stores and on websites by distributor partners like Sephora, where the technology has been available for some time.
Consumers can now enjoy the best our brands have to offer regardless of the distribution channel in which they meet them.