Strong partnerships with healthcare professionals
The strength of L'Oréal's dermocosmetics brands is underpinned by their business model, which focuses on three cornerstones: endorsements from healthcare professionals, particularly in dermatology, sales in pharmacies and drugstores, and online sales.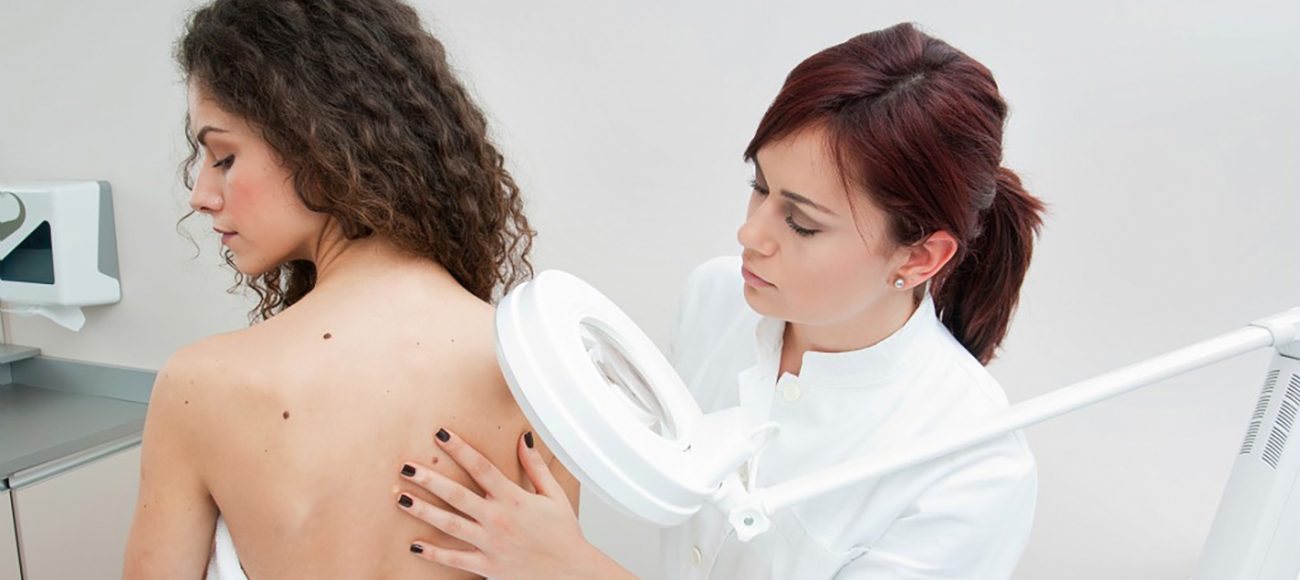 Experts and partners
Partnerships with healthcare professionals are an integral part of the Active Cosmetics Division business model. To meet the needs and expectations of their patients, dermatologists participate in product development, including exclusive clinical studies at every stage, from design through to assessment of effectiveness and tolerance before the products are brought to market. Thanks to the relationship L'Oréal has built with 160,000 healthcare providers via its network of medical representatives, the Group is able to regularly collect information on patients' experiences with products. This winning relationship improves the brands' understanding of consumers, so they can develop increasingly effective skincare products.
Healthcare professionals: our best ambassadors
In a testament to the trust-based relationship between healthcare professionals and the Active Cosmetics Division brands, dermatologists are speaking out more and more on social networks, becoming brand ambassadors.
SkinCeuticals, the benchmark brand prescribed alongside aesthetic procedures, stands out thanks to its unique presence in doctors' surgeries, in the United States for example. SkinCeuticals also benefits from the influence of dermatologists and plastic surgeons, particularly in China and Australia, who share their opinions and expertise on social networks, becoming the brand's online ambassadors.
In the United States, CeraVe is at the heart of this trend, as its digital campaign rolled out during the World Congress of Dermatology demonstrated. The content produced with dermatologists and well-known skincare influencers made CeraVe the brand most mentioned on social network posts related to the congress. The live streaming platform #SkinChat launched at the event was a great success.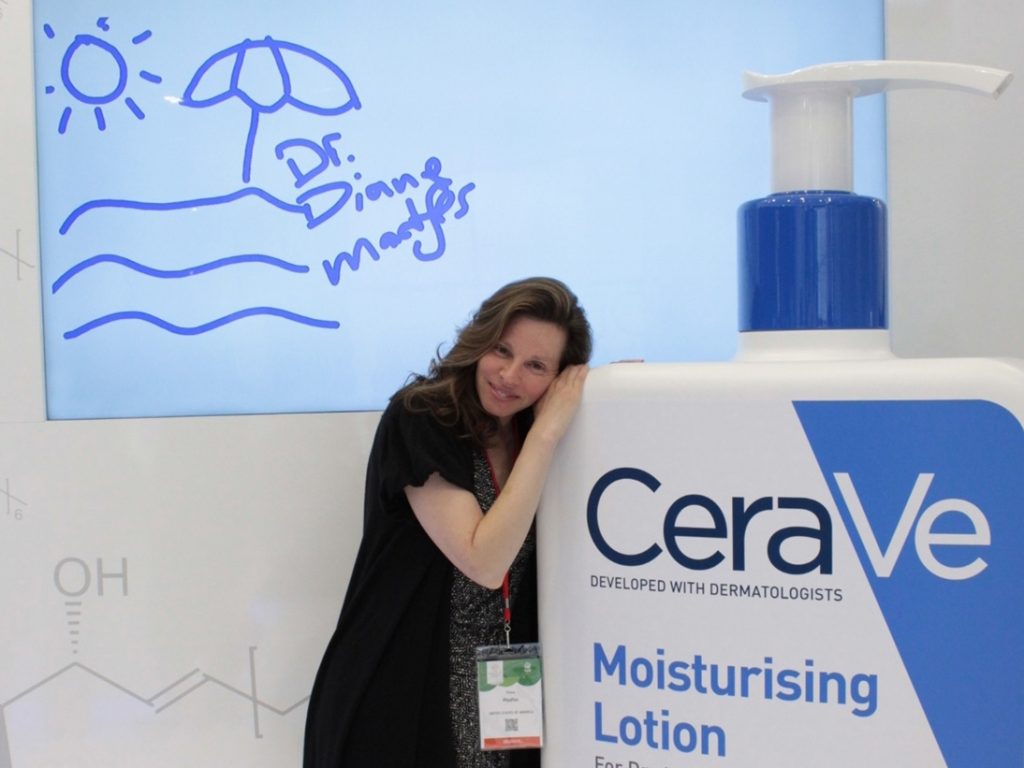 Dermatologists' solidarity initiatives recognised
The star event in the relationship between the dermocosmetics sector and healthcare professionals is the World Congress of Dermatology, which held its 24th annual edition in Milan. L'Oréal seized the occasion to showcase its research and its brands' expertise and to exchange views with many of the 13,000 healthcare professional attendees.
As part of a partnership with the International League of Dermatological Societies and the World Congress of Dermatology, L'Oréal presented the International Awards for Social Responsibility in Dermatology.
These awards recognised social responsibility initiatives led by dermatologists to foster physical and psychological well-being, self-esteem, social inclusion and healthy skin among patients, to help them find their place in society. Each of the five winning projects was awarded €20,000 to help them continue their work as key social responsibility players.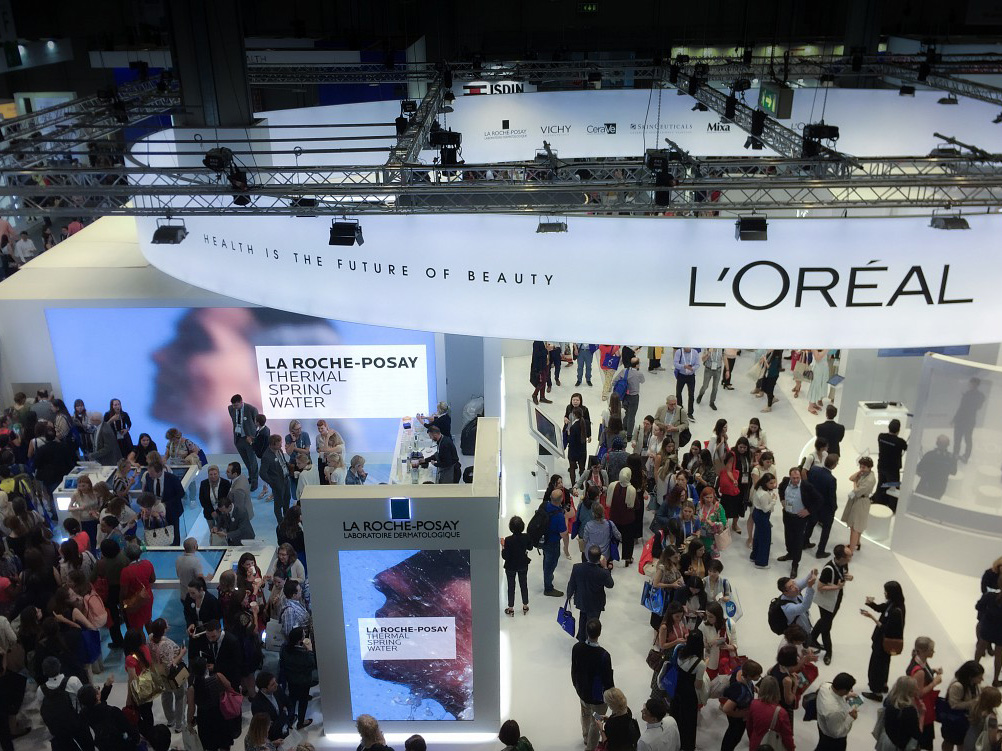 A senior physician at the LMU dermatology clinic, in Munich, Germany, and 2019 laureate of one of the International Awards for Social Responsibility in Dermatology, Kathrin Ghiel shares her initiative in favour of children with skin disease.
Digital and "phygital" : a winning combination
With the rise of new purchasing channels and new customer expectations in terms of services and experiences over the last several years, the professional hairdressing industry has been evolving to include more digital technologies. L'Oréal has made digital technologies a major growth driver for both hairdressers and their clients.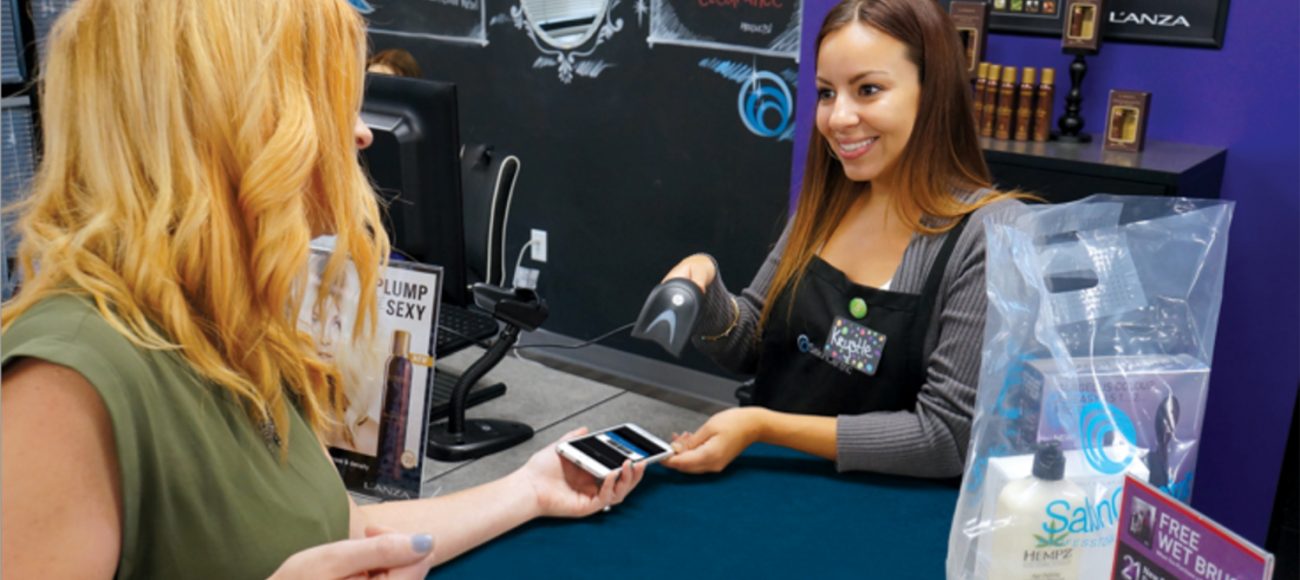 Digital technologies enhance the salon experience
New digital technologies give rise to new possibilities and allow professional hairdressers to deliver augmented experiences for their customers. The innovative Salon E-motionTM concept, which L'Oréal has rolled out in over 36,000 salons worldwide, is a perfect example. The programme focuses on educating hairdressers and transforming salons with digital technologies. For example, 2,800 E-motionTM salons across the globe have digital window displays. To inspire customers with the latest colour trends, the salons also offer areas where they can try out the Style My Hair app and use smart mirrors to immediately test new looks. In addition, high-tech digital tools – such as assessment cameras, which provide a precise study of the customer's scalp – take personalisation to a new level. Digital technologies are present at every stage of the salon experience, from booking the appointment through to sharing pictures of a new look from the selfie corner. The aim is to enhance the customer experience with a unique emotional and interpersonal approach.

Distribution goes "phygital"
L'Oréal is adapting to meet the needs of mobile professionals and their new ways of working. For example, with SalonCentric, the Group's distribution network for professional products in the United States, professional hairdressers benefit from a digital platform and a B2B  app that create a flexible purchasing experience via different channels, including a members-only same-day delivery service in one of the 400 participating stores.
This online experience complements the in-store experience at SalonCentric, which continues to open locations across the United States. SalonCentric has also built up a community of independent hairdressers who get together for training events. 135,000 hairdressers have already benefited from these educational sessions, run by "SalonCentric Beauty Gurus" in shops or salons. With better tools and training, professional hairdressers now have new means to reach their goal: providing superior services to their customers.
Brands and consumers increasingly connected
Digital technologies enable consumers, whether fans, ambassadors or influencers, to receive rich, targeted content from their favourite brands and become ambassadors for those brands.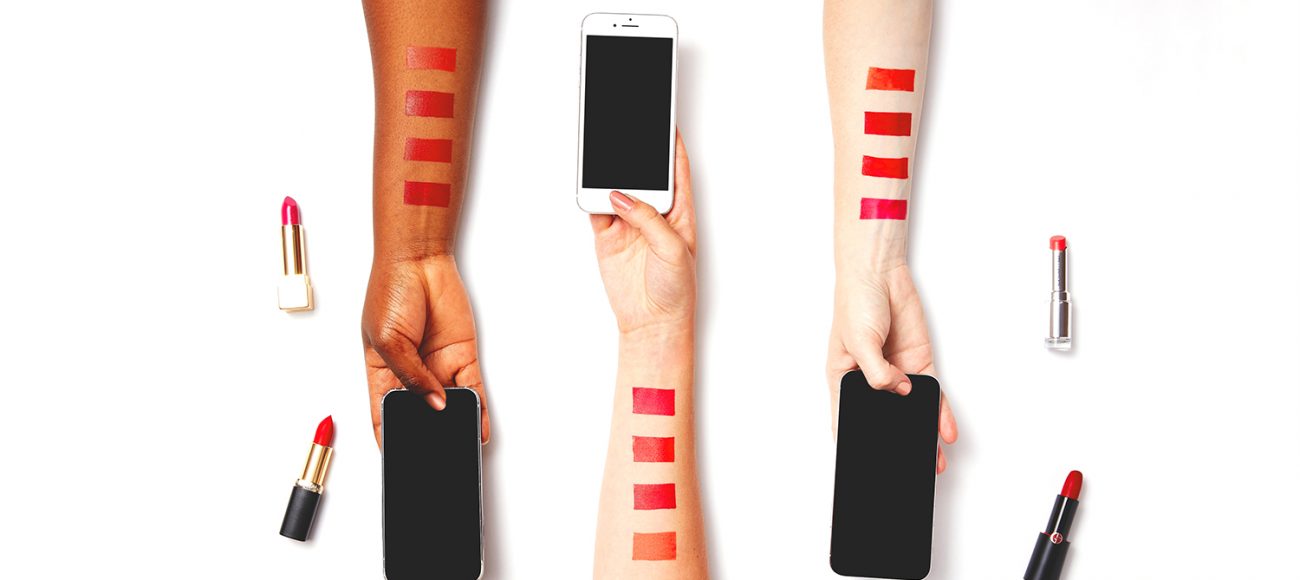 A wealth of targeted content
L'Oréal has developed digital factories with advanced audiovisual capabilities to create responsive, consumer-oriented social content highly personalised according to a user's profile and country. Take, for example, Garnier, with its Garnier Light Complete Serum Cream, a lightening serum cream enriched with yuzu and vitamin C, aimed at specific emerging markets. For the launch in India, Garnier worked with the Indian actress, singer and influencer Alia Bhatt, to create specific online content that would resonate with local consumers. The Bollywood-inspired music video presenting the qualities of the new product struck exactly the right note. It was an instant success with over 100 million views! Thanks to its 'industrial mastery' of digital, the Group produces a wealth of content. In 2019 alone, its 1 million content posts reached a total of 1.3 billion visitors and 285 million fans.
The community manager and consumer engagement
At the heart of consumer engagement is the community manager, who manages and mediates discussions on social media and builds a close relationship between the brand and its consumers. This increasingly important role, which calls for technical knowledge and reactiveness, is crucial to audience development and brand visibility.
In Spain, the platform "Tu piel y tu" created by the Active Cosmetics Division, enables users to obtain skin and hair advice, consult specialists about skin issues, watch makeup tutorials and ask questions on the discussion forum. In 2019, more than 12 million conversations between the Group's brands and consumers took place online, the goal being to respond to everyone.

Bringing consumers ever closer to the brands
What if the fans of the brands were to become some of their best ambassadors? This is what inspired Vichy for the launch of Minéral 89 Yeux in France, when it invited women who love the brand to try out this fortifying and plumping booster and talk about it through an ambassador programme. The programme reached one million consumers in France in 18 months, winning over 13,500 active members for the brand and generating 10,000 qualitative remarks and reviews on e-commerce sites.
In China, the brands have cranked it up a notch, with L'Oréal Paris, Lancôme and Maybelline New York inviting fans to recommend and even sell their products, as is the case with Austin Li, the Chinese influencer who has become an online 'super seller'.
Consumer engagement does not stop there. In a spirit of participation, and because consumers know their favourite brands like the back of their hand, Dop organised a call for ideas where consumers were able to vote for their favourite fragrance to be included in the Dop Douceurs d'Enfance range.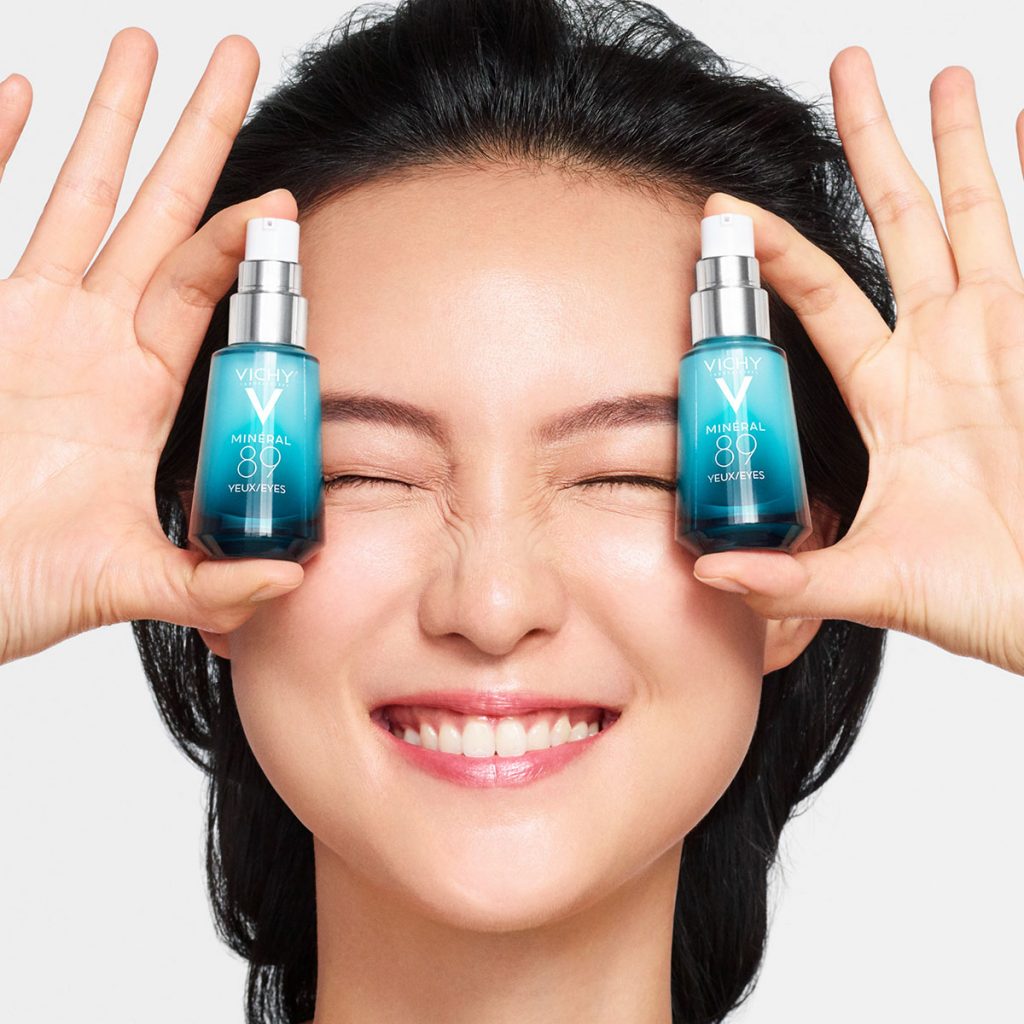 Citizen Day: 10 tangible impacts for the 10th edition
The 10th Citizen Day, L'Oréal's annual day of community volunteering, reaffirmed the commitment of the Group and its employees to making a positive contribution to society.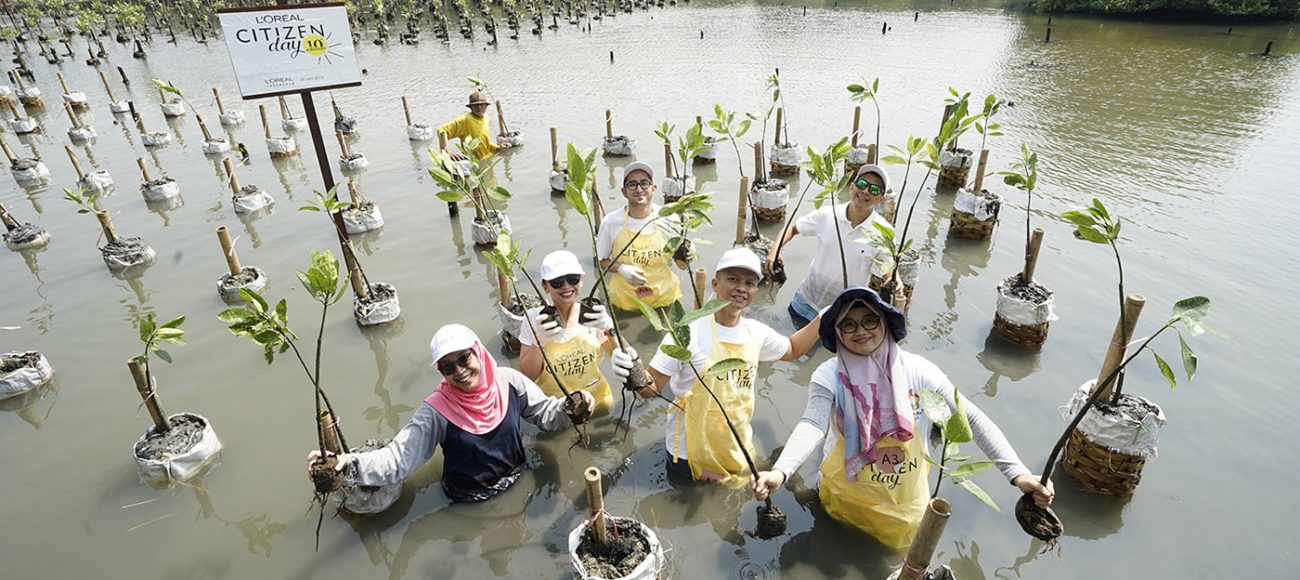 Over a million hours of volunteering
The L'Oréal group has always been a pioneer in terms of its commitments as a corporate citizen and last year helped its employees to engage actively in current societal and environmental issues for the 10th year running. Group employees worldwide have devoted over a million hours of volunteering, benefiting several hundred associations, since the initiative was first set up.
In 2019, 27,600 employees from 61 Group subsidiaries took part, working in partnership with social and environmental organisations to support 55,000 beneficiaries. The worldwide event was run over 10 days to increase the impact of the employees involved, with 10 emblematic initiatives marking the history of Citizen Day. Events included wellness treatments, hair-styling workshops, professional support, producing hygiene kits, painting projects, leisure outings and events with beneficiaries, picking up litter in the forest or on beaches, gardening projects, and recycling and repair workshops.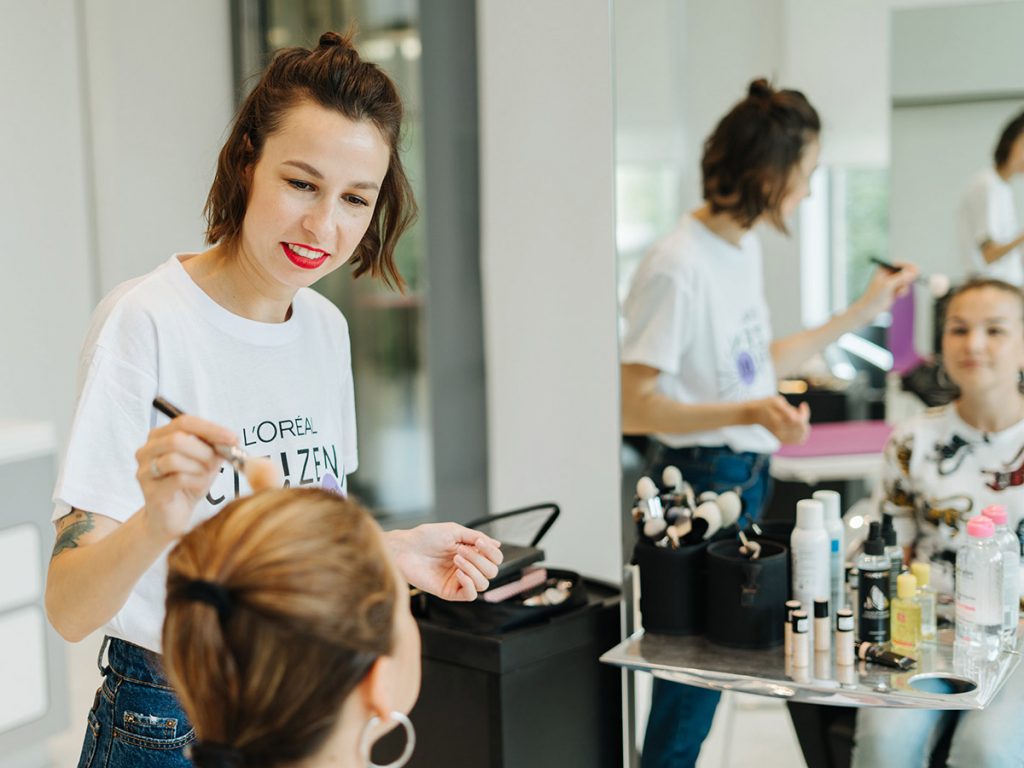 Tangible impacts
The commitment of L'Oréal employees who volunteered worldwide had a real impact and produced some tangible results.
5,813 beneficiaries of well-being workshops
1,144 beneficiaries of hairdressing workshops
13,214 beneficiaries of professional coaching
161,159 hygiene kits prepared for children
39,700 m2 painted surface
30,585 beneficiaries participated in leisure activities
4,347 beneficiaries of events
34 tonnes of waste collected
17,259 trees planted
32 tonnes of materials reused or upgraded
Even greater commitment with citizen skills
Helping others to develop new skills was a new departure for L'Oréal's 10th Citizen Day, the Group's community engagement programme. The Citizen Skills programme was launched in France, giving employees who want to get involved the opportunity to support community organisations during their working hours. They spend between two and six days contributing and sharing their expertise in marketing, project management, digital technology, human relations or finance with beneficiaries in the organisations concerned.
Personalised, expert or natural: skincare solutions for all types of skin
The Consumer Products Division solidified its leadership position in the skincare segment by offering innovative products that meet the infinite variety of needs and aspirations found throughout the globe. Discover more about the trends and products that have made the category a success yet again.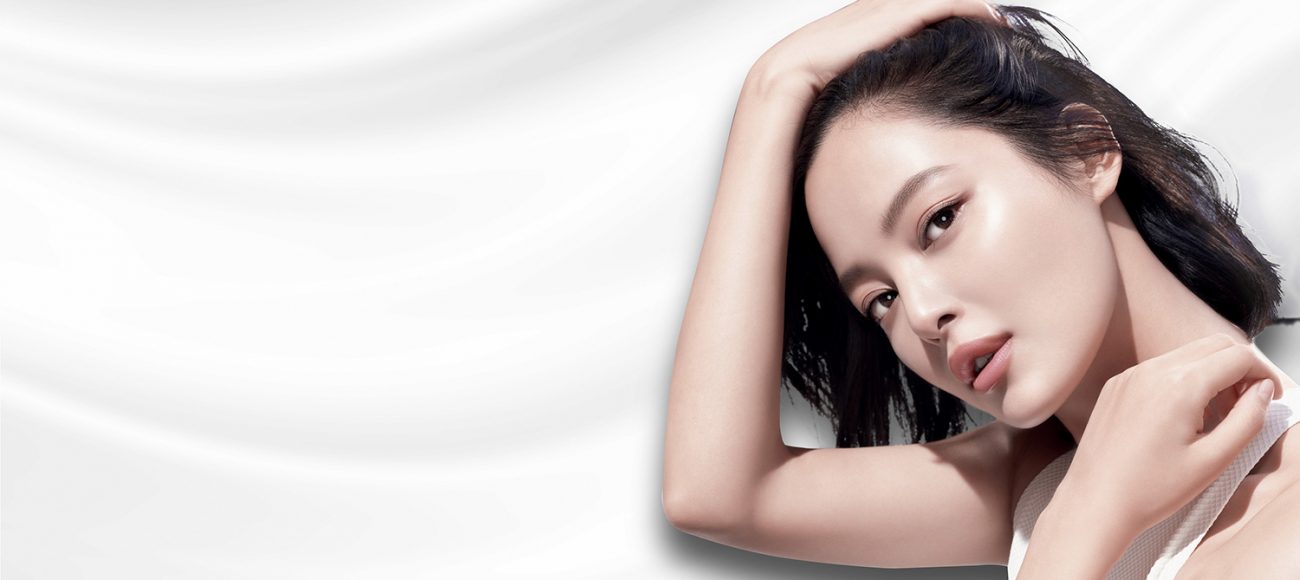 Ampoules: concentrated performance
How can we meet consumers' growing enthusiasm for skincare? L'Oréal's Consumer Products Division has a solution: capitalise on or take inspiration from major beauty trends, then make them available to all, through a wide distribution. The success of our ampoules – a sealed single-dose format that preserves the freshness of ingredients – is a perfect example of this strategy. Very popular in Asia, the land of innovation and inspiration for skincare, the format is now sold in the United States and Europe, where it continues to win over a growing number of consumers. The latest innovation by L'Oréal Paris – Revitalift Filler with hyaluronic acid, available as a serum and in ampoules – is driving acceleration in the skincare category in all geographic Zones. Underpinned by biotechnology and its formulation expertise, global anti-ageing leader Revitalift  has marketed unique products that meet consumers' needs since 1995.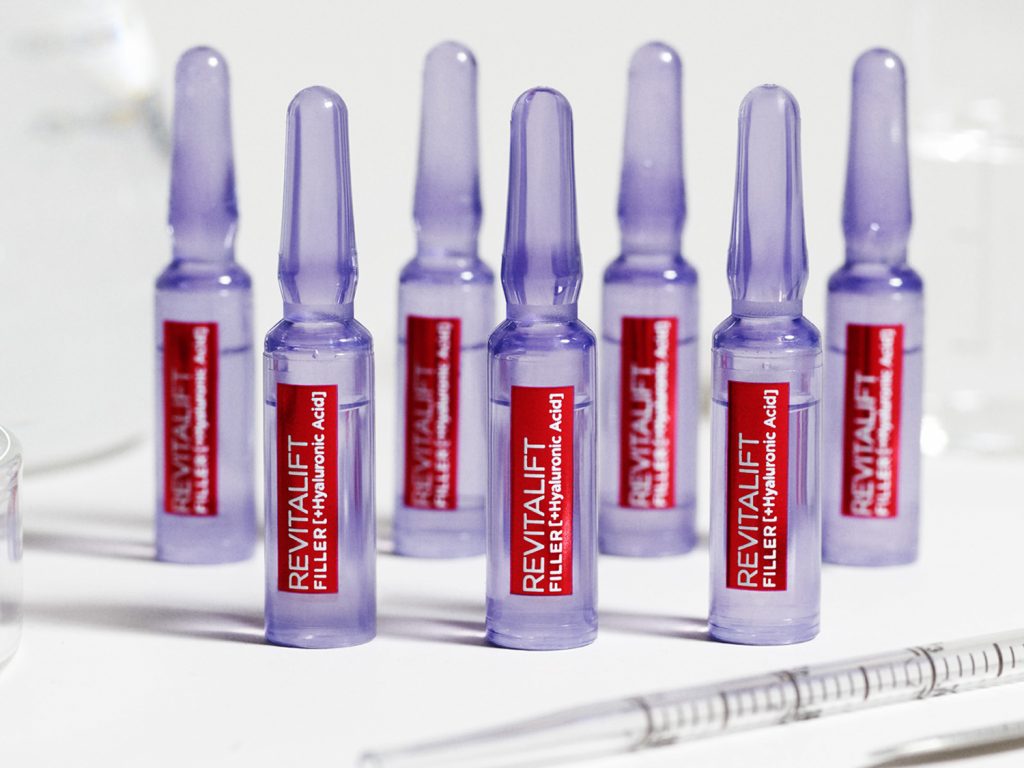 Tissue masks: targeted and effective
Tissue masks have also been a major success this year. Thanks to technology from the Chinese mask expert, Magic, Garnier Tissue Masks have won over consumers all over the world: in the United Kingdom, France, Germany, Russia, Thailand, Brazil, Australia and more. Why are masks so appealing? They deliver rapid results, have been proven effective, are easy and enjoyable to apply, and have become synonymous with well-being and self-care. Tissue masks are available in a wide variety of options – moisturising and firming, balancing, soothing, purifying, specially designed for eyes, etc. – to suit all skin types. Tissue masks have also reinvented retail space with bright and attractive mask bars, where consumers can easily and quickly choose the most appropriate mask.

Men's skincare: affordable expertise
Men's skincare, particularly in the expert range, also contributes to the Division's growth. Acno Fight by Garnier Men has met with remarkable success, and L'Oréal Men Expert has launched styling products to complete its Barber Club range, co-created with barbers, for a comprehensive beard, hair and skin offering.
The natural trend
Since 2015, Garnier has been working to complete a major shift. It was once a brand with products made from natural ingredients; today it is becoming a natural brand. Garnier has already done much to make its formulas, textures and packaging more sustainable and natural. These continuing efforts have enabled the brand to make significant progress with formulas containing over 90% ingredients of natural origin in the haircare segment, with the Hair Food range (98% ingredients of natural origin), as well as in hair colour and skincare.
The brand, whose new tagline is, "By Garnier, Naturally!", embodies its values and commitments now more than ever. Garnier is an expert in natural ingredients that offers consumers effective, accessible family products all while remaining committed to sustainable sourcing, reducing its environmental footprint, and supporting future generations via partnerships with Ocean Conservancy and the Association of European Cancer Leagues.
Global enthusiasm for skincare
Skincare is the most dynamic category in the market and at L'Oréal Luxe, which achieved 22% growth in 2019. Thanks to a portfolio of iconic and complementary brands, the Division offers a wide selection of exceptional products featuring the latest innovations.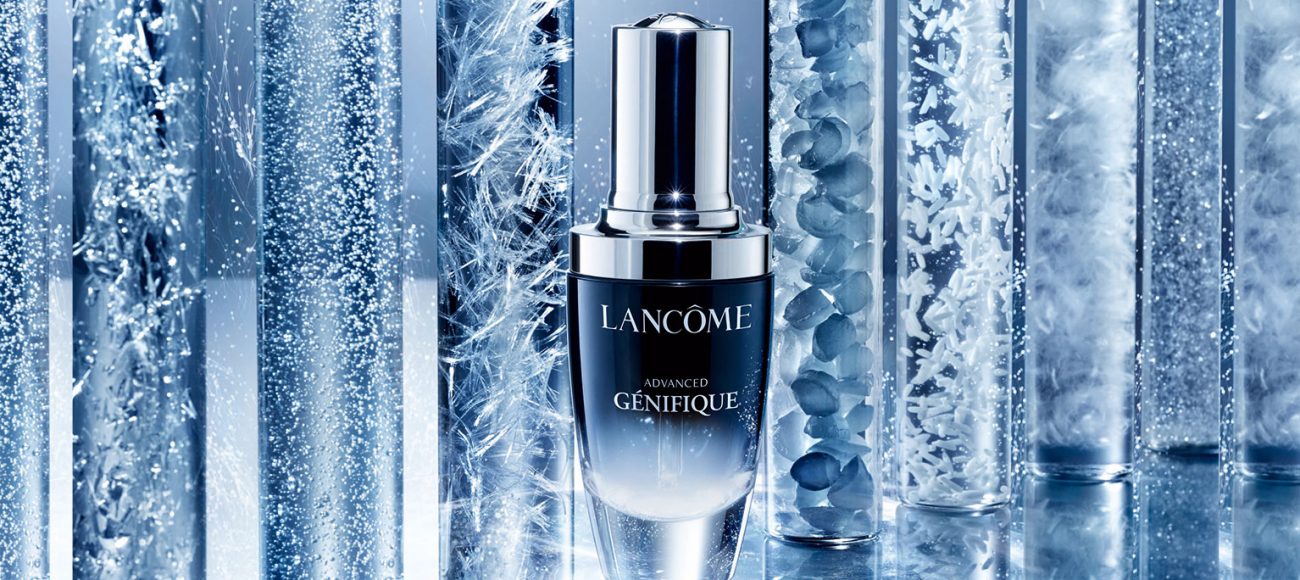 Innovation is the key to exceptional products
As a historic brand with recognised expertise in anti-ageing skincare, Lancôme relies on remarkable technological innovations developed by L'Oréal Research & Innovation. Once again this year, the brand's two longstanding pillars attracted many consumers. The new formula of its iconic Advanced Génifique serum – the product of research on the skin's microbiome – helps the skin to defend itself against external aggressions, so it can recover and repair damage. The Absolue range, another Lancôme pillar, benefits from an exclusive technology for extracting beneficial ingredients from roses.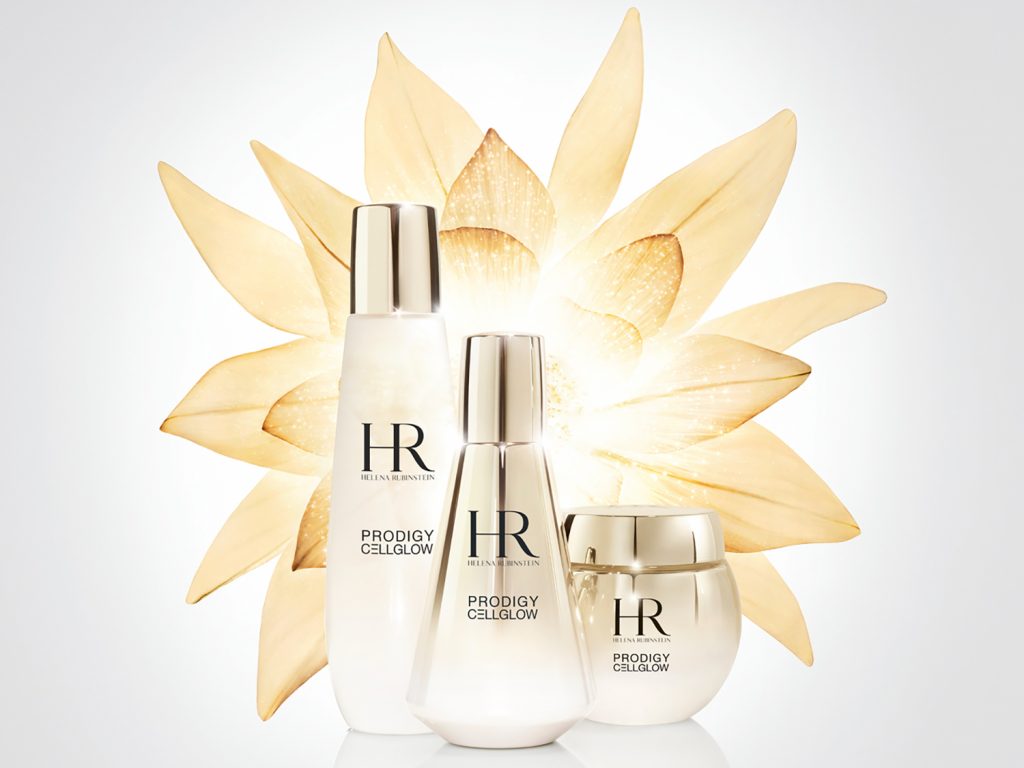 Helena Rubinstein – the Division's ultra-premium brand – offers products that take their inspiration from the most advanced fields of research, including stem cells. The brand's most recently launched range, Prodigy Cellglow, relies on the extraction of native cells from Edelweiss flowers, which have the remarkable ability to resist extreme conditions in the Swiss Alps. Thanks to these innovations, the brand's exclusive anti-ageing skincare products have met with exceptional success, particularly in Asia. As a result, the brand nearly doubled in size in 2019.
Skincare: apothecary style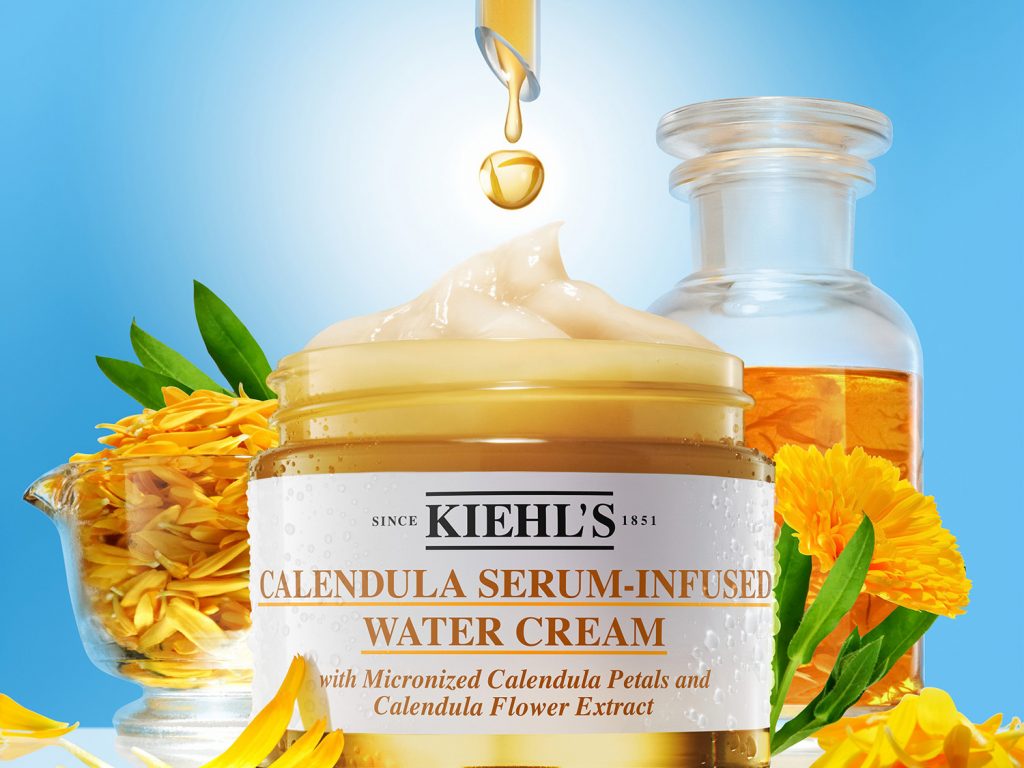 With roots in a traditional apothecary in New York's East Village, Kiehl's continues to attract consumers thanks to its natural ingredients, effective formulas and skincare expertise. The Calendula range confirmed its success with the launch of the Calendula Serum-Infused Water Cream. Each jar contains hundreds of micronised calendula petals to soothe discomfort. The brand's iconic products (such as the Powerful-Strength Line-Reducing Concentrate and Ultra Facial Cream) have become consumer must-haves. Highly personalised services – "skin diagnoses", customised advice in stores, the personalised Apothecary Preparations range, which evokes the charm of traditional pharmaceutical preparations, exclusive gifts, and special collaborations with artists – also contributed to the brand's success.
Transparent sustainable innovation
As consumer choices become increasingly influenced by products' environmental and health impacts, L'Oréal Research & Innovation has a clear mission: to deliver the best possible cosmetics in terms of innovation, effectiveness, quality and safety.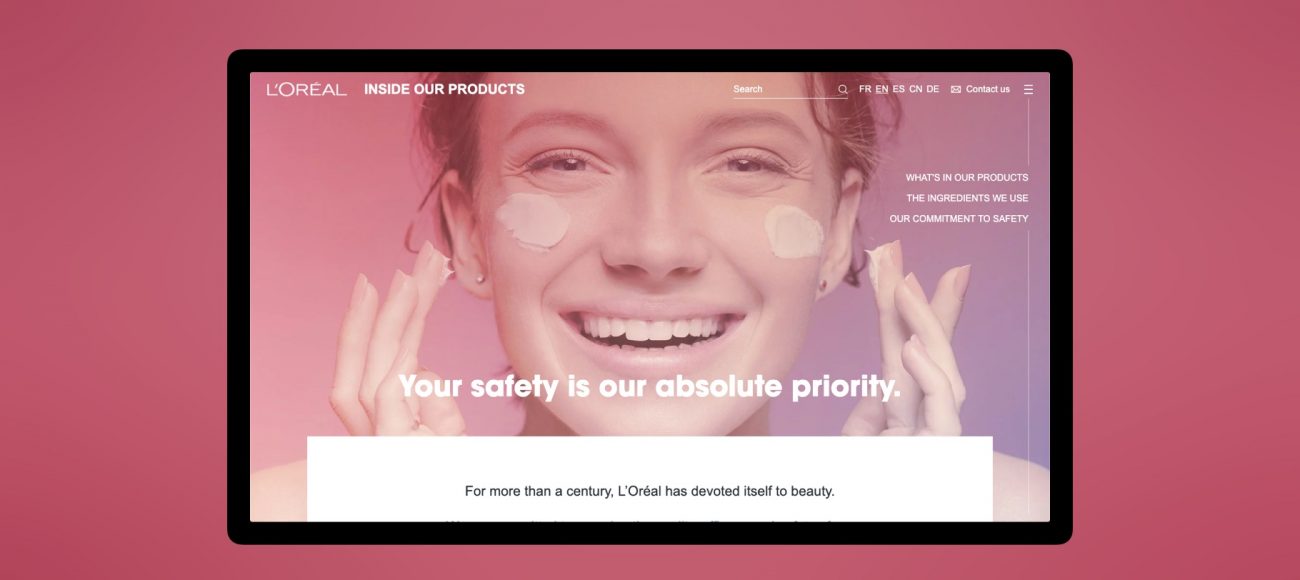 Naturel and effective
Developing products consumers see as safe and innocuous is a major challenge for L'Oréal – one in which Research & Innovation plays a crucial role. Via a dedicated programme, R&I has compiled a portfolio of innocuous ingredients and formulas, including a growing number of natural ingredients, to improve products' social and environmental profile, in line with the "Sharing Beauty With All" programme  . All of the Group's brands build upon the work of Research & Innovation to develop increasingly environmentally friendly products, without compromising on performance.
Products that are environmentally friendly, made from natural ingredients, or labelled organic are at the heart of Research at L'Oréal. The vegan Nature + Science range by Redken, made from highly effective naturally derived ingredients, including a 100% natural origin fragrance, is just one example. Another is the Garnier Organic range, whose products are based on a rigorous selection of certified organic essential oils and floral waters, to ensure optimal results for each skin type.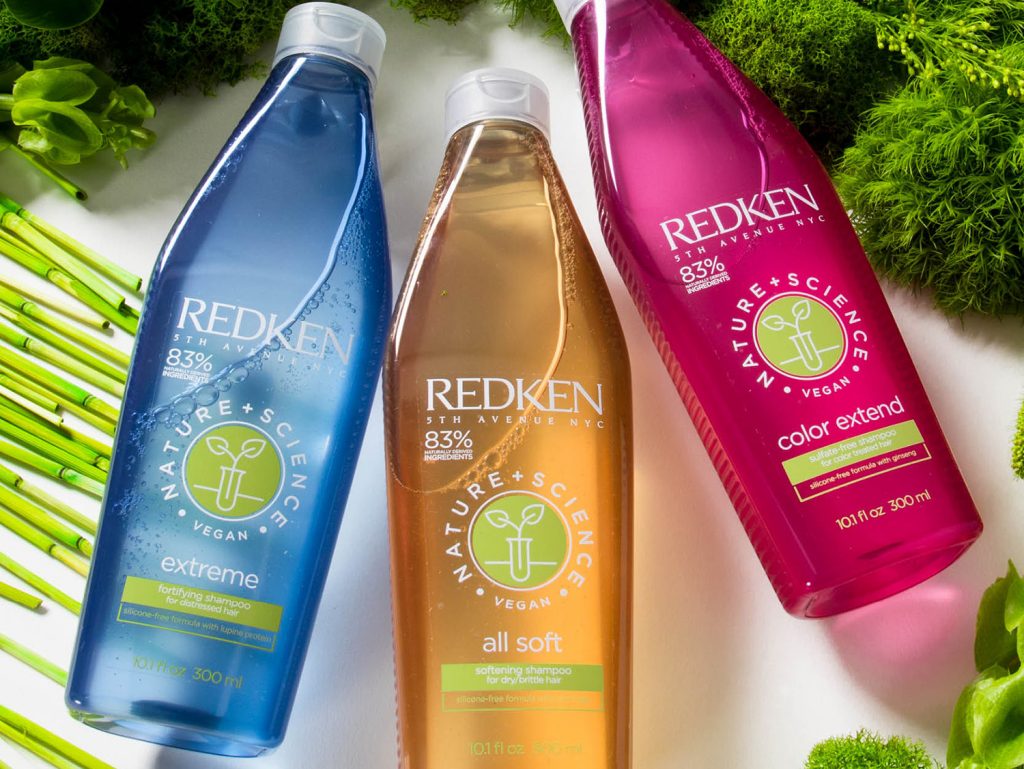 Measuring products' social and environmental impact
In addition to formulas, Research & Innovation strives to minimise products' impacts thanks to SPOT  , an all-new evaluation tool in consumer products, which is available to all Group teams. Analysing a cosmetic product's lifecycle and its social and environmental impacts is a complex process, which must take many factors into consideration. The tool assesses 14 sustainability criteria throughout the product's lifecycle, from use by consumers to packaging production and recycling. This process exceeds the recommendations of the European Commission in terms of the number of criteria examined.
Supporting sustainable innovation
L'Oréal also makes the most of sustainable innovation. Via its BOLD  investment fund, the Group supports several startups, including Global Bioenergies, a green chemistry company that is pioneering the development of a process for converting renewable resources, such as sugar beet waste, into isododecane. This ingredient, which has previously only been produced from fossil fuels, is used in some cosmetics formulas.
Transparency: "Inside our products"
To ensure the Group's processes and choices are transparent for consumers, L'Oréal created the "Inside Our Products" website, which answers their questions about Group products and their ingredients. The site is always evolving to include new content, to keep consumers informed and provide proof of the safety, quality and efficacy of L'Oréal cosmetics products.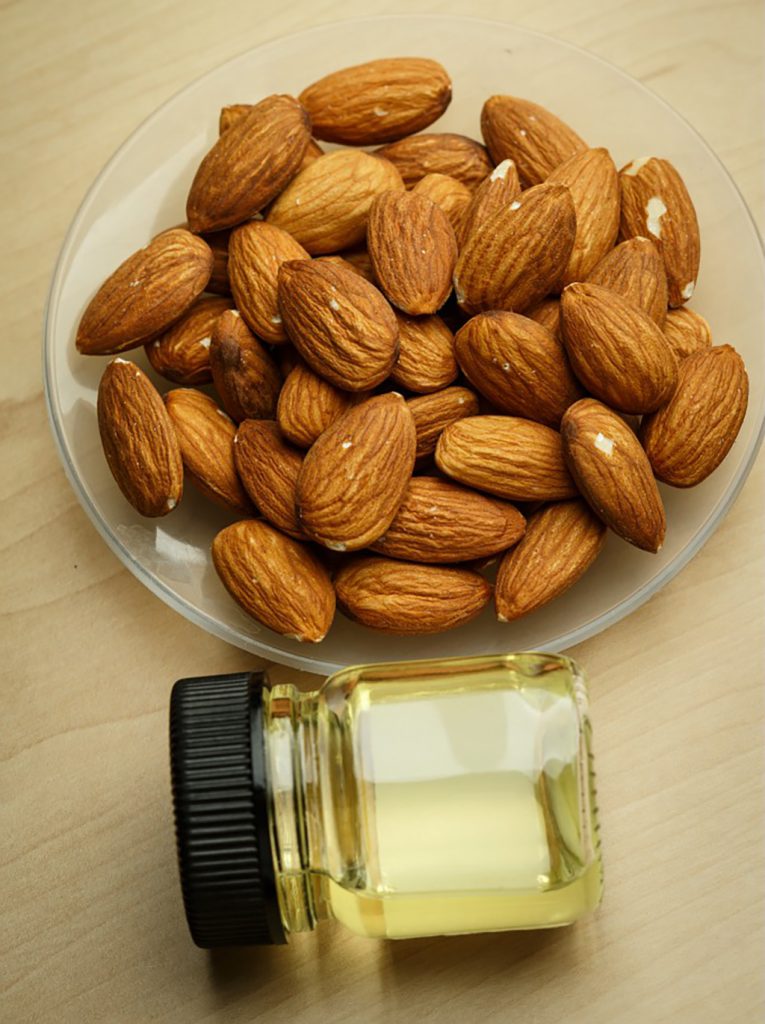 Hairdressing: the dawn of a new era
To meet customers' new expectations, hairdressers are reinventing their profession. Read on for a closer look at the innovative initiatives L'Oréal has rolled out to support these increasingly connected entrepreneur-artists through the transformation.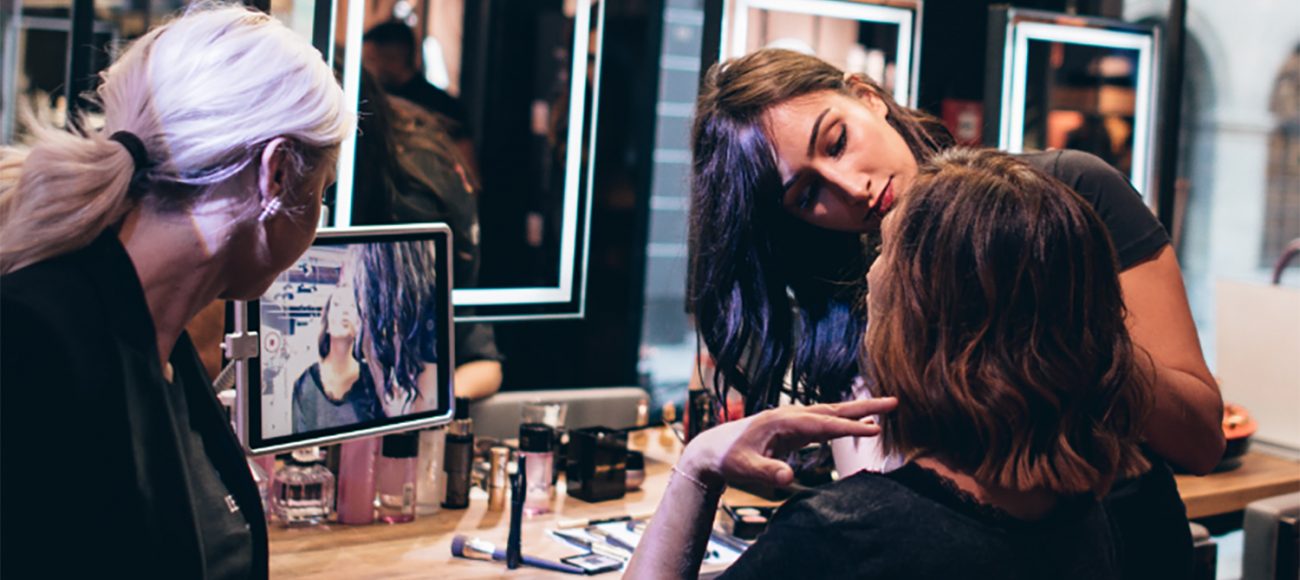 Hairdressing 3.0
Digital technologies have heavily impacted consumers' relationship with hairdressers. They now expect extremely high levels of personalisation and increased ease of access to services in salons and at home. While professional expertise remains the foundation of a customised hairdo, growing numbers of consumers are buying L'Oréal brands – recommended by their hairdresser or suggested by influencers on social networks – online.
The reach of digitalisation also extends to services. Better informed, increasingly demanding customers now make salon appointments online – particularly in the United States, Japan and Russia. At-home, beauty apps have also met with growing success in the United States, the United Kingdom and Dubai. Thanks to digital connections with their customers, professionals can remotely provide personalised assessments and recommend suitable haircare rituals.
This new generation of hairdressers is also reinventing the salon concept itself. As the number of independent hairdressers grows, they have begun to explore different workspace solutions. In the United States and Canada, they often rent chairs in salons or use hotel suites, while in Japan they have adopted coworking spaces.
Supporting professionals through training
The Professional Products Division sees education as an integral part of its DNA. It is fully committed to supporting hairdressers through the transformation of their profession.
For all brands together, the Division boasts 3,800 trainers, 90 academies and 250 training studios worldwide. About 30% of partner hairdressers participate in trainings offered in salons, via short courses or at seminars, on subjects as diverse as management, digital technologies, running a business and technical skills.
The Division's brands also galvanise professionals at major events. Two thousand hairdressers from 66 countries gathered for a three-day training celebrating L'Oréal Professionnel's 110th anniversary. Redken invited over 8,000 managing hairdressers with 25 different nationalities for its Symposium in Las Vegas, which focused on inspiration and learning methods. And Kérastase gathered 46 education managers from all over the globe for a seminar that lasted several days. The long-term goal is to reach 100% of the Division's partners, including mobile hairdressers, to ensure they have access to all the services and information they need to grow their businesses.
This goal can only be reached by creating digital tools like the Access platform, which offers trainings on a wide variety of topics: digital technologies, management, Salon E-motionTM, etc. Access is already available in approximately 20 countries and is expanding, with the aim of doubling that figure.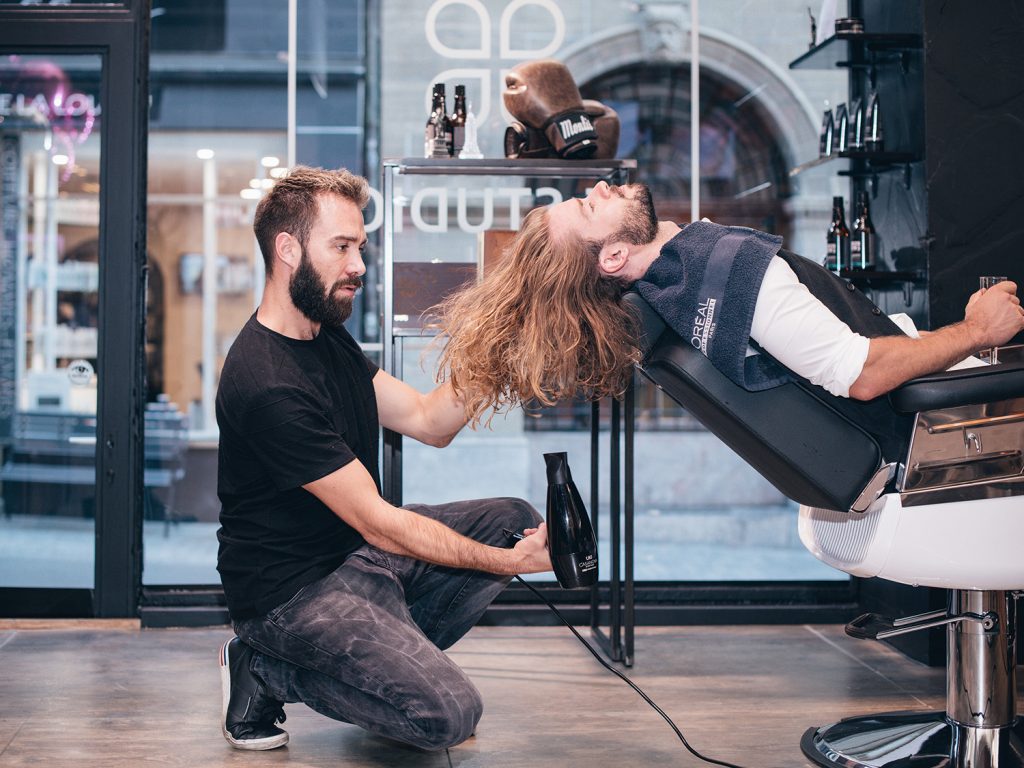 L'oréal has founded its own hairdressing school
The hairdressing industry currently lacks qualified and motivated candidates, with over 10,000 empty positions in the field in France. To boost the sector's appeal among young people and improve employability, L'Oréal has opened its own hairdressing school in Paris and created the first ever bachelor's degree in Hairdressing and Entrepreneurship. This programme provides a comprehensive training of excellence, combining technical courses with essential complementary skills in entrepreneurship and digital technologies. Aiming to reach as many people as possible, the training will welcome students from other hairdressing courses as well as those with more generalist backgrounds, professional hairdressers and people seeking to change professions. Those who need it will be invited to attend a month-long accelerated technique training to prepare for admission to the bachelor's degree programme.
The aim is to train 10,000 hairdressers in 10 years. This new initiative is proof of L'Oréal's commitment to helping to transform the hairdressing profession.
Top stylist: supporting the best hairdressering startups!
How do you select the most promising new hairdressers and help them open their own salons? L'Oréal developed a solution by creating Top Stylist. This innovative competition offers professionals eager to become entrepreneurs a chance to be a part of the first hairdressing business incubator at Station F, with the ultimate goal of opening their own salons. The first step in the Top Stylist adventure is selecting 10 winners during a technical and artistic challenge, followed by an assessment of their salon concept by a jury of business owners, entrepreneurs and experts. Next, the 10 winners receive a six-month training at the Top Stylist incubator at Station F, the largest startup campus in the world. During their time there, the winners learn from experts in diverse fields. They have the opportunity to think about hiring staff, growing their business and the customer experience as well the legal, marketing and digital aspects of owning a business. The programme goes all out to support the hairdressing talents of tomorrow.
Stable governance in a swiftly changing cosmetics market
The composition of the Board of Directors reflects L'Oréal's unique shareholding structure and guarantees the interests of all its shareholders. Alongside the Chairman and Chief Executive Officer, there are three directors from the Bettencourt Meyers family, two from the Nestlé company, seven independent directors and two directors representing employees.
Governance is more essential than ever in an increasingly VUCA (Volatile, Uncertain, Complex and Ambiguous) world: it is imperative that we can take advantage of multiple perspectives and different kinds of expertise to decipher and understand it, grasp the opportunities and constantly adapt the business to it.
JEAN-PAUL AGON
Chairman and Chief Executive Officer
The diversity and complementarity of the directors' industrial, financial and entrepreneurial expertise equip them to quickly and thoroughly comprehend the development challenges facing L'Oréal, the leader in a globalised and highly competitive cosmetics market in which the need to innovate and adapt is crucial. Most of the directors have experience managing international groups at the highest level. In 2019, the Board welcomed a new independent director, Fabienne Dulac, Chair and Chief Executive Officer of Orange France and Deputy Chief Executive Officer of the Orange Group.
As of 31 December 2019, Board members represented seven different nationalities, with an almost even gender balance (54% women). Three of the four committees are chaired by independent female directors.
The diverse experience and expertise they bring ensures free, in-depth and spontaneous discussions.
A board of directors that fully assumes its responsibility to provide strategic reflection and impetus
The Board devotes most of its time to strategic issues, to foster and accelerate the Group's transformation into a more digital and more sustainable L'Oréal, which takes full account of social and environmental issues. The Board is kept informed throughout the year about the Group's activities and results, its positions in relation to its competitors, market trends and the expectations of consumers all over the world. It examines acquisition projects and monitors the integration of recently acquired companies. It is kept up to date with progress on L'Oréal's Corporate Social and Environmental Responsibility Programme "Sharing Beauty With All" and monitors carefully the Group's initiatives on diversity, the gender mix and inclusion.
The directors have regular meetings with the Group's senior managers for an update on their achievements and the main development issues they face in their respective areas. This transparent and constructive dialogue culminates in a shared strategic vision, which gives General Management the confidence necessary for its implementation.
A strategy meeting was organised in June 2019, on the topic of Beauty in 2030.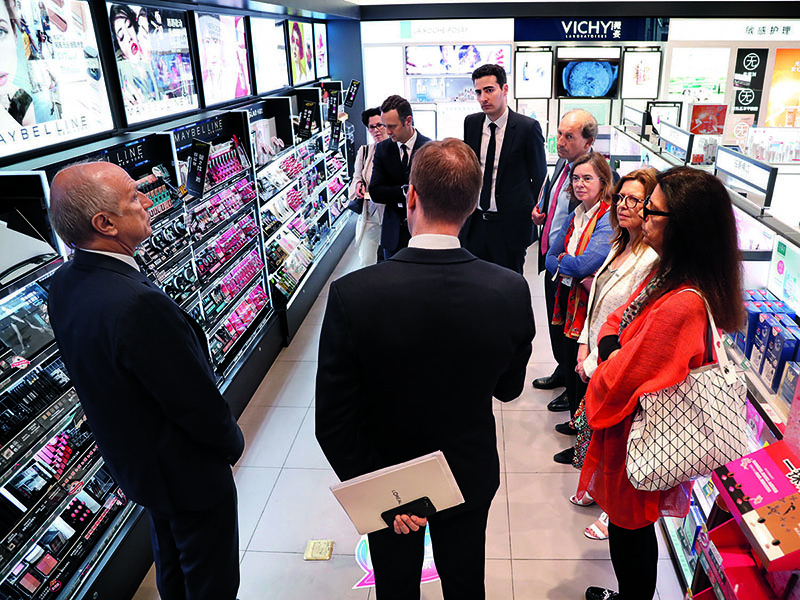 Proactive and committed directors
The directors are committed and proactive, driven by the conviction that stringent governance creates value for the company. They always keep the company's long-term interests first in mind as they voice their opinions.
The directors play a tireless and dynamic role in the work of the Board and its Committees. Board committees issue detailed, insightful, reasoned recommendations that feed into the Board's discussions and inform its decisions.
The Board carries out a full review of its modus operandi and organisation every year from a continuous improvement perspective. It determines which topics to prioritise at this annual review, in line with its role of providing the impetus for L'Oréal's long-term strategy.
Ethics at the heart of L'Oréal's governance and commitments
The Board of Directors places great importance on respecting L'Oréal's ethical principles – Integrity, Respect, Courage and Transparency – and more generally its Code of Ethics. In 2019, the Senior Vice-President and Chief Ethics Officer presented the ethics programme and the initiatives taken in this field, as well as their results. The Board considers this programme to be an integral part of L'Oréal's growth model, supports its implementation and regularly measures the advances made.